June has been one crazy&happening month! i had my first semester Finals going on (so much for happening ;)) in between studying and everything else, Chrome L decided to compete in the Halo YG Day! which was practically a Kpop dance competition to celebrate the presence of YG Entertainment in Malaysia (like finally). the YG family especially consist of Big Bang, 2NE1 and Se7en. we sent our audition video to Halo Music and got shortlisted for the finals on the 25th of June which was last Saturday!
Where was it? 1Utama near Armani Exhange. at first we all thought it would be indoors like in the middle amongst the shops or something like that, BUT it was such a HUGE letdown! it was outside near the taxi stand, no stage was to be found and the scorching weather didn't make things any better. our SPIRIT to dance went bye-bye....
Fortunately, things turned upside down when we saw the crowd!
Ruffneckz's leader, Yoro! SUPERB dancer :)
Chris and I very hot and sweaty indeed!
Credits to Dad for all the pictures and Videos :) thanks a bunch <3
with our greatest supporters! Chris' brother and cousin, Calvin and Joshua!
this fella surprised me by showing up :3
look! i can't even see your eyes anymore Xian!
with our supporters! Look at that DIY banner made by Nia Mun, she's the one in the hat :)
Chrome L HWAITING!!!
so full of Lap :3
Sachieeeeeeee :) she has an amazing voice!
they're committed to their work and girlfriends, no better way to describe them!
HAHA Nicina so cute!
I'm sure you guys must be asking yourselves "SO DID YOU GUYS WIN OR NOT WOR?" hahaha! no we didn't come in 1st but we were the top 3 and no, 1st and 2nd runner up doesn't exist, sadly! but we did receive a bag of beauty products, Big Bang's new album, Se7en's new album, a Digi goodie bag(???) each and a RM100 voucher worth of Korean BBQ at DaoRae!
disappointed, yes we were! although we didn't come in 1st this time that doesn't mean we are gonna give up and stop practicing because this is just the beginning of Chrome L! win or lose, i honestly am very happy with our performance. despite our super busy schedule, we managed to practice and perfect our steps throughout the month of June. you could say we are pretty new to the Kpop community in Malaysia as this was our 1st competition together, the 5 of us i mean, not as Chrome L.
so much effort and scarifies were made throughout this little journey and none of that was a waste. to be able to perform and entertain the crowd like that is absolutely priceless! we are entertainers, that's what we are.
Special thanks to Chris' girlfriend, Siau Yin for putting so much effort into the costumes for the 3rd track (TONIGHT)! can you imagine? all those BLING BLING and everything else was all her hard work! :3
Congratulations to Ruffneckz for winning! You guys did an amazing job! :D
don't have a picture with them :(
Chrome L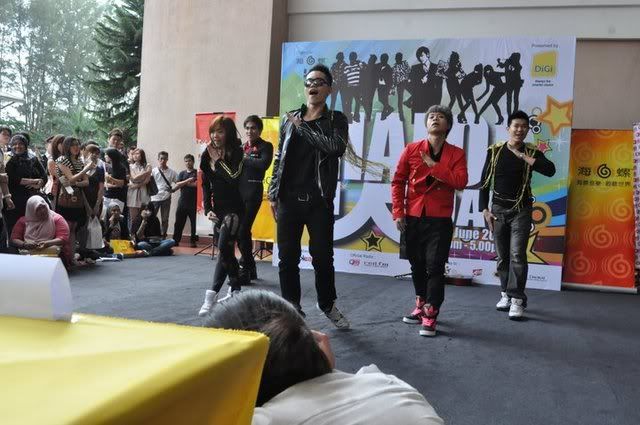 Tonight~